Sep 1, 2013
Is God Fun?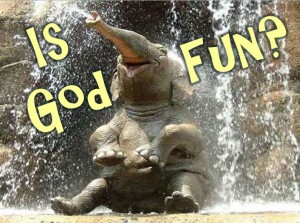 Is God fun? I shudder to think this question is even debatable to some - of course God is fun! He invented human beings, most of whom crave fun. He created laughing elephants, lightning bugs, and rainbows. And everything he created he looked at and declared with a laughing heart, "It is good!" This message explores the theology of fun. Without an understanding of the whimsical side of God's nature, Christians often devolve into a sad-sack lot, draining joy out of our journey with Jesus, until little remains except for indecipherable theological terms that serve as tombstones for our once-vibrant faith. Let's embrace the gift of fun and laugh out loud with God! By the way, here's a link to the one-minute slide show of the joyous expressions of God in nature mentioned in the first part of the message: [video width="480" height="360" wmv="http://veronaumc.net/hp_wordpress/wp-content/uploads/2013/09/Gods-Fun-Loving-Nature-in-Nature.wmv"][/video]
Psalm 100 New International Version (NIV)
1 Shout for joy to the Lord, all the earth. 2 Worship the Lord with gladness; come before him with joyful songs. 3 Know that the Lord is God. It is he who made us, and we are his; we are his people, the sheep of his pasture.
4 Enter his gates with thanksgiving and his courts with praise; give thanks to him and praise his name. 5 For the Lord is good and his love endures forever; his faithfulness continues through all generations.
Watch
Notes
Download
Date
Title
Sep 1, 2013

Is God Fun?

Sep 1, 2013

Is God Fun?

Is God fun? I shudder to think this question is even debatable to some - of course God is fun! He invented human beings, most of whom crave fun. He created laughing elephants, lightning bugs, and rainbows. And everything he created he looked at and declared with a laughing heart, "It is good!" This message explores the theology of fun. Without an understanding of the whimsical side of God's nature, Christians often devolve into a sad-sack lot, draining joy out of our journey with Jesus, until little remains except for indecipherable theological terms that serve as tombstones for our once-vibrant faith. Let's embrace the gift of fun and laugh out loud with God! By the way, here's a link to the one-minute slide show of the joyous expressions of God in nature mentioned in the first part of the message: [video width="480" height="360" wmv="http://veronaumc.net/hp_wordpress/wp-content/uploads/2013/09/Gods-Fun-Loving-Nature-in-Nature.wmv"][/video]

Psalm 100 New International Version (NIV)

1 Shout for joy to the Lord, all the earth. 2 Worship the Lord with gladness; come before him with joyful songs. 3 Know that the Lord is God. It is he who made us, and we are his; we are his people, the sheep of his pasture.

4 Enter his gates with thanksgiving and his courts with praise; give thanks to him and praise his name. 5 For the Lord is good and his love endures forever; his faithfulness continues through all generations.

Aug 25, 2013

Genesis: The Power of God's Goodness

Aug 25, 2013

Genesis: The Power of God's Goodness

Two technical notes: 1) The recording begins about 30 seconds into the sermon. 2) A short video clip is played at about the 10-minute point. Here is the link to the video on youtube: http://www.youtube.com/watch?v=QBDrRl7d5ZA

Aug 11, 2013

Genesis: The Power of Blessing

Aug 11, 2013

Genesis: The Power of Blessing

Aug 4, 2013

Genesis: Made in God's Image

Aug 4, 2013

Genesis: Made in God's Image

Jul 21, 2013

All for Sinners' Gain

Jul 21, 2013

All for Sinners' Gain

Jul 14, 2013

"Out of the Pan, into the Fire"

Jul 14, 2013

"Out of the Pan, into the Fire"

The second in a three-part series on the Gospel of Matthew. We explore the true meaning of Christian "call" and the ways in which Jesus has called us to follow him in an often hostile world.

Jul 7, 2013

Challenged from the Start: Bethlehem to the Wilderness

Jul 7, 2013

Challenged from the Start: Bethlehem to the Wilderness

SERMON SERIES:  JOURNEY WITH JESUS, PART 1 Challenged from the Start:  Bethlehem to the Wilderness This morning's sermon challenged us to rethink the first stages in the life of Jesus from the Gospel according to Matthew. Here's a summary of Matthew 1-4: 1) Jesus is born in squalor and scandal; 2) Jesus' birth so disturbs Herod the Great that he attempts an assassination of Jesus by massacre; 3) To escape Herod, Jesus and his parents become refugees in Eqypt; 4) Jesus is baptized by his cousin John, a wilderness prophet strongly critical of the religious establishment who would later be beheaded; 5) Jesus encounters and overcomes the trials of the Tempter in a cruel wilderness experience. QUESTIONS: What does it mean that God chose this particular time and place for the birth of Jesus? What do the stories of Matt. 1-4 mean to the modern church and contemporary followers of Jesus? Are we too concerned with respectability and propriety - and not enough with the poor, the outcast, the lost? Have we allowed our culture and church to so soften the story of Jesus that we have lost a realistic sense of its transforming power?

Jun 30, 2013

Partners in God's Mission

Jun 30, 2013

Partners in God's Mission

Jun 23, 2013

A Well Encounter

Jun 23, 2013

A Well Encounter

While Pastor Bob is in Hampton for the Virginia UMC's Annual Conference, VUMC's own Shawna Hiner shares an experience at the well with Jesus in this moving personal testimony of grace and redemption. Shawna is a life-long VUMC member and has served for many years as our Administrative Assistant. Her Scripture:  John 4:1-26