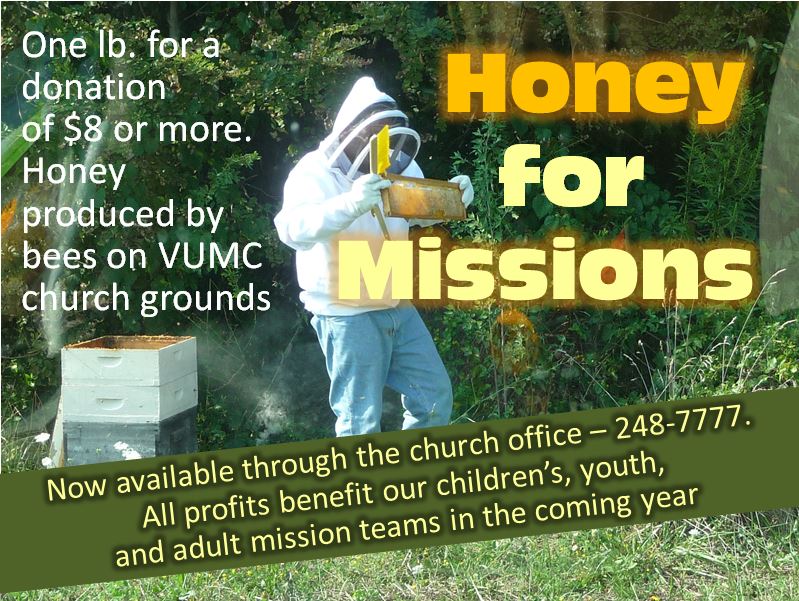 In the spring of 2012, our church established a single honey bee hive on our five acre lot adjoining the church building site. Through sales of honey from this single hive,

over $600

was donated to our church's Haiti mission team.
In the spring of 2013, another hive was added.
In 2014 we expanded to seven hives, with two located at Project Grows in Verona.
In 2015 we expanded to eleven hives with a dozen of our church members forming a cooperative to manage the hives and harvest the honey. Over $1,200 was donated to mission projects.
In 2016 we raised over $2,000 for missions through sales of honey from our hives!
In 2018, we donated $2,500 to the Verona Community Center from honey sales.
The goals for this ministry are:
1) To raise money through honey sales to support our mission teams; 2) To raise the public consciousness about threats to the honey bee population and its detrimental effect on our world's agriculture; 3) To use the honey bee as a witness to the wonders of God's creation.

Here's the Sermon Series from Oct. of 2011 that sparked the idea for this ministry: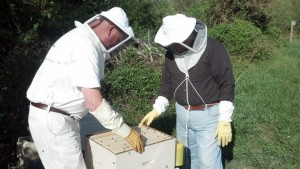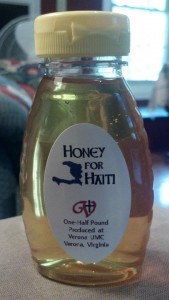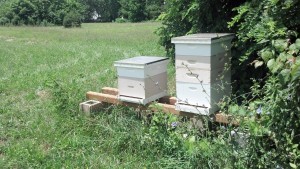 Honeybees, Honey, and the Bible:
The honeybee is known the world over for its industrious production of honey. It is the symbol of work, creative activity, busyness, cooperation, obedience, orderliness, employees, and diligence. The phrase "as busy as a bee" is commonly heard. The honey it produces is a symbol of wisdom, rebirth, and positive changes in spiritual or moral direction and temperament. The honeybee, its honey, and its hive are emblems of sweetness, wealth, and eloquence. St. Ambrose of Milan and St. Bernard de Clairvaux have honey or beehives as their attributes because of their "honeyed tongues." According to the Golden Legend, St. Ambrose's father predicted his eventual eloquence when he discovered the sleeping infant's head covered with a swarm of bees. The Israelites, especially, connected bees with language since the insect's Hebrew name "dbure" is related to the root dbr meaning "speech." The true and righteous words and judgments of the Lord are said to be sweeter than honey (Ps 19:10; Ps 119:103; Ezek 3:1-3; Rev 10:9-11). The pleasant words of humans are also compared to the health-giving honeycomb (Prov 16:24). A sweet-talking person's lips "drip as the honeycomb," even if they are the deceitful words of a harlot (Song 4:11; Prov 5:3). Proverbs warns against too much sweetness saying, "have you found honey? Eat only as much as you need, lest you be filled with it and vomit" (Prov 25:16). Milk and honey are considered rich and pure enough to be food for the gods. The Bible often refers to the Promised Land as a "land flowing with milk and honey" as a sign of the abundance, ease, and prosperity to be found there (Ex 3:8, 17; 13:5; 33:3; Lev 20:24; Num 13:27; 14:8; 16:14; Deu 6:3; 11:9; 26:9, 15; 27:3; 31:20; Josh 5:6; Jer 11:5; 32:22; Ezek 20:6, 15). Unfortunately, Israel's disobedience caused this abundance of milk and honey to be transformed into the curse of "curds and honey," which became the main staple of a land left depopulated and fallow by war and exile. Its remaining population was reduced to relying on nature's providence which was now more than sufficient since there were few men or servants to eat it (Ps 81:16; Is 7:15-22; Deu 32:13). John the Baptist came eating only "locusts and wild honey," showing his reliance upon God's providence in nature, rather than on man (Mt 3:4; Mk 1:6). The resurrected Christ proved to His disciples that he was not a ghost by eating a bit of honeycomb (Lk 24:42). Because of the sweetness it produces, the bee is an emblem of Christ even though His words may sting the sinner. This stinging reinforces the image of the Christ bee who is the righteous judge. The bee's ceaseless activity surrounding the production of honey is comparable to the constant action of the spirit of Christ hovering about His Church. Bees were once believed to be parthenogenetic or formed from unfertilized eggs, and so became symbols of chastity, moral purity and virginity. Since bees supposedly had thousands of "virgin births" and since honey is an emblem of Christ, bees became symbols of the Virgin Mary. The alleged sexual purity of bees made beeswax suitable for candles to burn before the Lord. St. Ambrose taught that the Church is a beehive and the bees are the faithful, diligently storing up treasure or honey in heaven. The church teachings and the Bible are also considered honey. Beehives represent peaceful, wisely ruled communities, nations, and monasteries which are governed by a single head. During Biblical times, the bee was the emblem of Ephesus and the city's coins were minted with bees on their faces. A visit from St. Paul occasioned a riot by worshipers of the great "Diana of the Ephesians" whose Ephesian temple was one of the Seven Wonders of the Ancient World (Acts 19:23-41). Diana, also known as Artemis was pictured with many breasts and some beehives, both of which represented fertility. Her priests and priestesses were called "bees" and her community was the "hive." Egyptians and others placed bees and honey in tombs and graves as offerings to spirits of the dead and symbols of personal resurrection. Christians also saw in the bee's springtime emergence from the hive a representation of Christ's emergence from the tomb. Egyptians believed that bee swarms were born in the rotting carcasses of sacrificed animals. And many other people believed that human souls assumed the forms of bees in order to escape their own corpses through their skin. Samson ate honey from the carcass of a lion he slew (Judg 14:8-9). Swarms of honeybees are regarded as bad omens and associated with bereavement. In some European countries, the spirits of those unable to find peace with God are believed to seek shelter in family hives. An invasion by countless enemies is likened to an attack by bees (Deu 1:44; Ps 118:2; Is 7:19). Like the lion, bees represent vigilance because they were once believed never to sleep. Because they store up honey, bees are emblems of thrift, banking, and forethought. They were once thought to be messengers to the gods. Bees are associated with the moon, and form the bowstring of Kama, the god of love who brings about the sweet pains of love. Unless otherwise noted all scripture quotes are from the NKJV Bible.